Cart
0
Books, Audio ,Video CDs and DVDs of Discourses by Swami Sandeepananda Giri on the Bhagavad Gita, Upanishads and other text are made available for purchase.
THE ULTIMATE UNION - Yoga Sutras Of Patanjali- Complete Series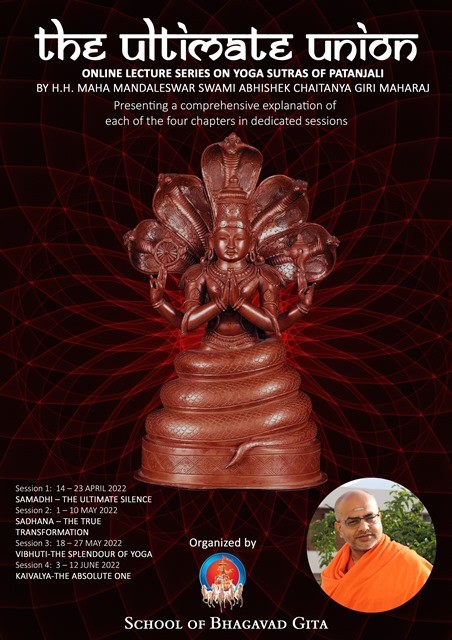 Price : Rs 3500/-

* Online Course - Live
School of Bhagavad Gita organises
THE ULTIMATE UNION
ONLINE LECTURE SERIES ON YOGA SUTRAS OF PATANJALI
BY H.H. MAHA MANDALESWAR SWAMI ABHISHEK CHAITANYA GIRI MAHARAJ
Presenting a comprehensive explanation of each of the four chapters in dedicated sessions
Session 1: 14 – 23 APRIL 2022
SAMADHI – THE ULTIMATE SILENCE
Session 2: 1 – 10 MAY 2022
SADHANA – THE TRUE TRANSFORMATION
Session 3: 18 – 27 MAY 2022
VIBHUTI-THE SPLENDOUR OF YOGA
Session 4: 3 – 12 JUNE 2022
KAIVALYA-THE ABSOLUTE ONE
YOGA SUTRAS
The Yoga Sutras, a compilation of 196 sutras or aphorisms, by Sage Patanjali, is a practical guide for one's spiritual journey of discovery of one's true Self. While it is the most authoritative text for yoga practitioners, it is also a treasure house of wisdom for spiritual seekers.
Divided between four chapters, the sutras, or threads as the meaning in Sanskrit goes, entwine within themselves the subtle techniques of meditation and contemplation, physical and mental discipline that rightly lead to Yoga, the Ultimate Union of the body, mind, soul and spirit to the Absolute One.
Reviews