KALIKKOOTTAM- Childrens' Holiday Activities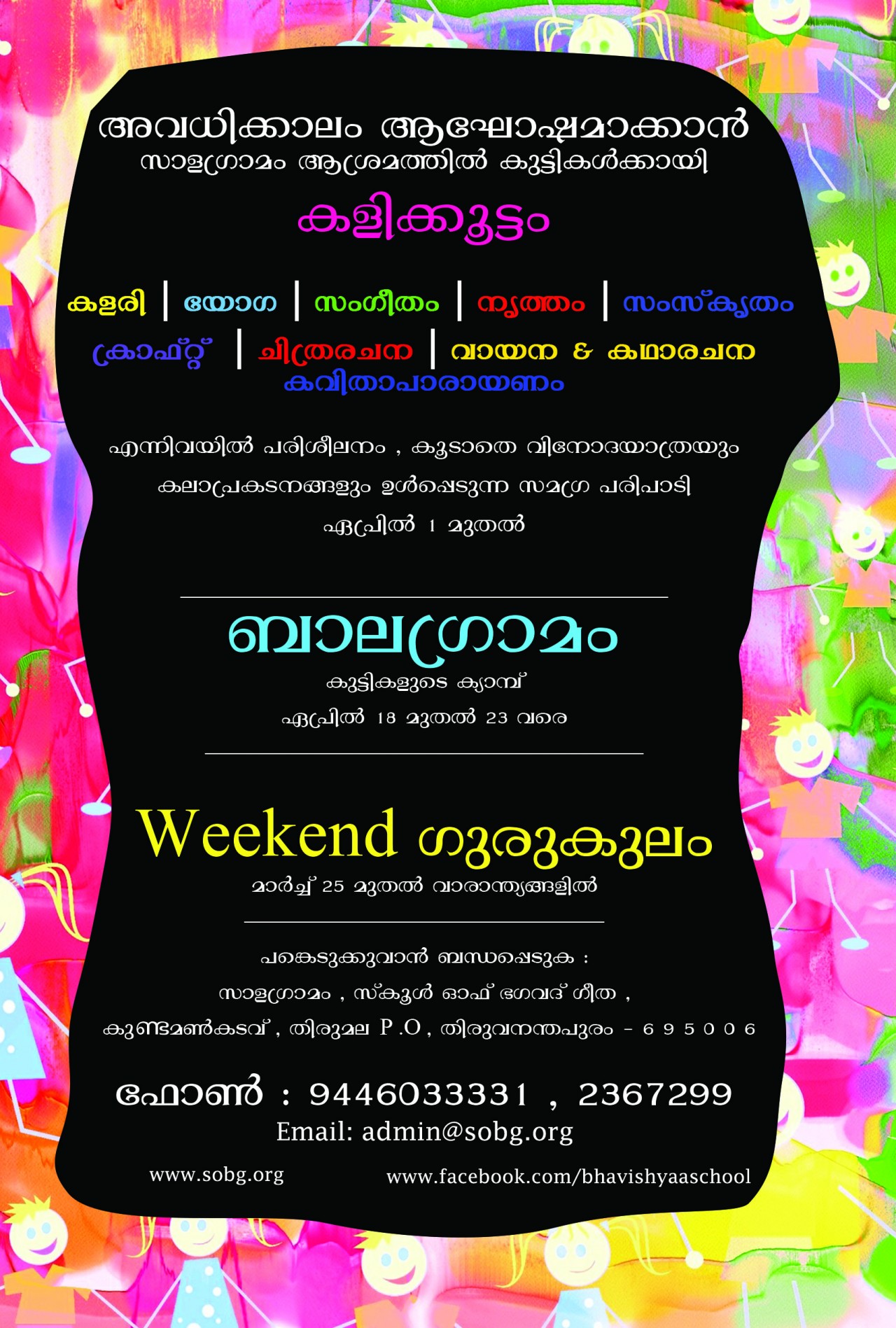 Date : 01/Apr/2017 - 31/May/2017
A lot of interesting, fun-filled and educative activities for children, are being organised in Salagramam ashram, School of Bhagavad Gita, Trivandrum, in the months of April and May. Briefly they are as follows:
Kalikkoottam - April and May 2017 - Activities and classes include Kalari, Roller- skating, Swimming,Yoga,Sanskrit, Bhagavad Gita, Drawing and Painting, Art and craft, Music, Dance,Vedic Maths, Nature, Agriculture and Environmental awareness, Reading, Recitation and Story - telling, Group activites and games, etc and Interactive sessions with Swamiji.
Children can spend the whole day at the ashram, or part of the day. They can also choose the specific activities they want to participate and come on particular days only. Fees for the month is Rs 3000 for full - time. Timings 9 AM to 5 PM. Children whose parents can pick them up after office hours only, can stay longer. Lunch and snacks will be provided.
WEEKEND GURUKULA - Children can come on Friday evening or Saturday morning, stay at the ashram and leave by Sunday evening. Programme will be held every weekend during vacation and on alternate weekends when school reopens. Activities and classes will be as in Kalikkoottam. Fees - Rs 2000,per month inclusive of food and stay.
BALAGRAMAM - 18 - 23 April 2017. Residential camp for children. Outstation children can also participate. Camp fee - Rs 5000, including stay, food, classes and study materials. Full details attached.
We do hope that you will encourage your children and their friends to join us and take part in this programme which will be very enjoyable and memorable experience for them.
PLEASE CALL 9446033331 OR EMAIL TO programs@sobg.org for more details and registration